SPORTS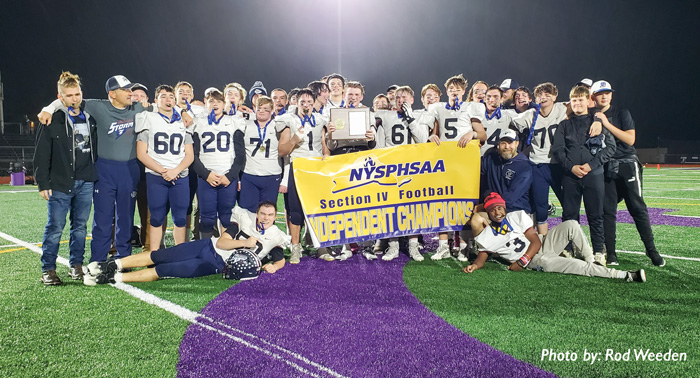 SPORTS RECAP: Week of 11-16-22
Schuyler Storm
Football
The combined Watkins Glen and Odessa-Montour football team captured the Section IV title in the independent division, Friday, Nov. 11. The Schuyler Storm defeated the Dryden Purple Lions, 12-6.
On the rushing attack, Thomas Snow, Ryan Willett and Bradley Gillis led the team. Snow recorded 12 carries for 45 yards and a touchdown. Willett contributed 13 runs with 28 yards. Gillis added nine carries with 45 yards.
Quarterback Daniel Lewis was 8-for-17 passing for 156 yards and a touchdown. Alex Holmes made three catches for 85 yards, while Brady Cannon and Willett each had two for 45 yards and 11 yards, respectively. Gillis added one catch for 15 yards and a touchdown.
On defense, Gillis recorded eight unassisted tackles and two assisted. Gavin Lohmeyer added five unassisted and six assisted tackles. Shea Young also assisted on six tackles.

Watkins Glen
Girls Soccer
The Watkins Glen girls soccer team fell to Sauquoit Valley, 1-0, in the Class C regional game, Saturday, Nov. 5.
"The girls fought hard in what was a very close game right to the end," said Coach Scott Morse. "Sauquoit Valley played fast and aggressive and put a lot of pressure on us from the start. We created more opportunities as the game progressed but just couldn't get one to go."
Goalie Lilly Ameigh made 14 saves for the Senecas who ended the season with a 13-3-1 record and the program's first sectional title.
"I'm incredibly proud of the girls and what they accomplished this season," said Morse. "It was a really special season with a very special group of girls and I'm grateful for the opportunity to coach them."
The team thanks the families, school and community who were supportive throughout the season.

Cross Country
Penn Yan's James Tette competed in the New York State Public High School Athletic Association state finals, Saturday, Nov. 12 at Vernon-Verona-Sherrill high school. He finished eighth with a time of 17:25.5 in the boys Class C race.
For Hammondsport, Emmy O'Neill competed in the girls Class D race. She finished 16th with a time of 21:04.1..