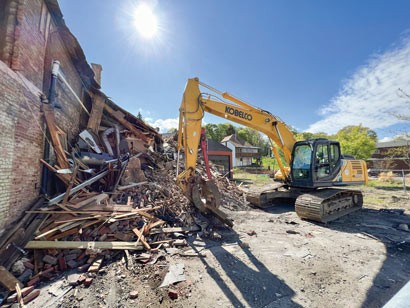 NEW YORK STATE--Gov. Kathy Hochul announced more than $112.9 million has been awarded to 70 projects through the Restore New York Communities Initiative. Restore New York supports municipal revitalization efforts across the state, helping to remove blight, reinvigorate downtowns and generate economic opportunity in communities statewide. The program, administered by Empire State Development, is designed to help local governments revitalize their communities and encourage commercial investment, improve the local housing stock, put properties back on the tax rolls and increase the local tax base.
"These Restore New York grants will help to reimagine downtowns across our state and transform vacant, blighted and underutilized buildings into vibrant community anchors," Hochul said. "Thanks to a more than $146 million state investment, we are breathing new life into communities from Hudson to North Hempstead, jumpstarting new economic activity and helping ensure that New York state continues to be a place where people come to live, work and raise their families."
Locally, the village of Watkins Glen was selected for $2 million in funding. According to the state, the project is called "Enabling the Future for the Next Generation of Watkins Glen," and "This project will be constructed on the site of a vacant car dealership that will be demolished. A new, purpose-built building will welcome visitors with exhibits, provide tours, educational programming and other activities that document and share this history in new and innovative ways by creating an experiential history center that celebrates motor racing history worldwide, including the 75 years of racing history in the village."
Empire State Development President, CEO and Commissioner Hope Knight said, "The Restore New York Communities Initiative provides vital funding to help our municipal partners find creative ways to redevelop and transform neighborhoods into areas that uplift their communities after years of decay. Restore New York tackles urban blight head-on, allowing for new possibilities that spur local economic development efforts for years to come."
The Southern Tier was awarded more than $11.9 million to support eight projects, while the Finger Lakes was awarded more than $20.5 million to support 10 projects.