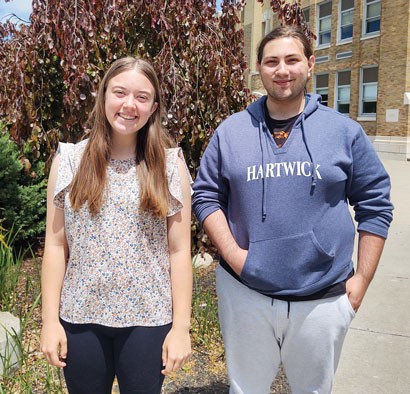 DUNDEE--Dundee Central School announced the valedictorian and salutatorian of the Class of 2023 last week.
Lily Hall, daughter of Bill and Macy Hall, has been named valedictorian of the Class of 2023. Lily plans on attending a four-year college in the fall.
During her high school years at Dundee, Lily has been an active member of the National Honor Society, consistently earned high honor roll, served as a class officer and was selected for a Mega Scot award in multiple school years. Lily has participated in volleyball, soccer, and track and field throughout her years at DCS and earned recognition in these activities. During her four years of high school, Lily earned a grade point average of 100.2.
Aiden Fatta, son of Paula Stanley, has been named the salutatorian of the DCS Class of 2023. Aiden will be attending Hartwick College, where he will be studying computer science. Aiden has consistently earned high honor roll and recently was inducted into the National Technical Honor Society. In school, Aiden has participated with the e-sports team at DCS for multiple years. Aiden enjoys writing, drawing, playing video games and basketball in his free time, and during his four years of high school earned a GPA of 98.2.