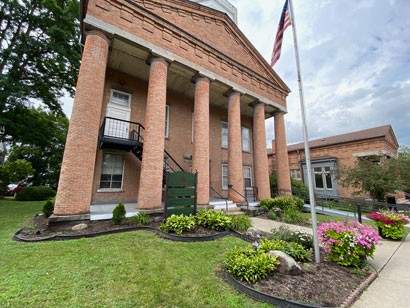 BY Stephanie Specchio
MONTOUR FALLS--Montour Falls has begun a process to determine how to best leverage a $4.5 million grant the village received from the NY Forward Program. The process is projected to take six months. New York Forward funds are awarded to communities with the understanding that resources will be used to create active downtowns with a mix of uses, enhance downtown living and quality of life, provide diverse employment opportunities for a variety of skill sets and salary levels. The program aims to create diverse housing options for all income levels, enhance public spaces that serve all ages and abilities, encourage the reduction of greenhouse gas emissions, and, grow the local property tax base.
Mayor James Ryan and Executive Director of the Schuyler County Partnership for Economic Development Judy McKinney Cherry will serve as co-chairs of the committee. Local Planning Committee (LPC) members were selected by village representatives and the co-chairs with the goal of minimizing conflicts of interest and submitted to the state as recommendations. The state ultimately selected members of the LPC.
At the Tuesday, May 23, meeting, the LPC made several decisions, establishing parameters and guidelines for those who wish to secure some of those funds.
Committee members were presented with a vision for downtown Montour Falls. After a brief discussion, the LPC approved the vision that – among other goals – leverages the village's assets, grows a culture of sustainability and environmental awareness, recognizes an entrepreneurial spirit, creates a vibrant downtown, improves economic opportunities, and sustains a year-round economy. The complete vision statement – along with current information – can be found online at www.montourfallsnyf.com. Consultants from Cameron Engineering are facilitating the process and maintaining the project website.
As they select how to direct the resources, the LPC is looking for ideas that will transform the community, with the ultimate list totaling between $6 million and $8 million. The LPC will review projects and submit those deemed appropriate to the state for review and approval. Not all submitted will be funded – as the grant is for $4.5 million – however having extra projects will serve the community well, according to the consultants, if a selected project is unable to proceed.
LPC members agreed that project requirements should include a recommended goal of up to a 50 percent match for funding for most projects. A match would not apply to projects proposed by municipalities.
To secure the grant, the application included a list of projects, including among others: streetlights and streetscape improvements, Montour Marina improvements, Shequaga Creek Square, and a boutique hotel/spa. These proposed projects, however, were just ideas and may or may not be included in the final submission to the state for approval.
Criteria were discussed at the meeting, but not finalized. Accepted projects will fall within Montour Falls' New York Forward boundary. An open call for projects will be issued shortly. Eligible project types include new development and/or rehabilitation of existing downtown buildings; public improvement projects; small projects; branding and marketing. Projects not eligible for funding include standalone planning activities; operation and maintenance; pre-award costs; property acquisition; training and programmatic expenses; and expenses related to existing programs.
Future meeting dates and times were also discussed but not finalized. The LPC is expected to meet several more times. Meeting information can be found on the project website. The public is welcome to attend LPC meetings, with a public comment period expected at the end of each session. In addition, consultants indicated that public outreach events will also be held, although the proposed dates were also tentative.