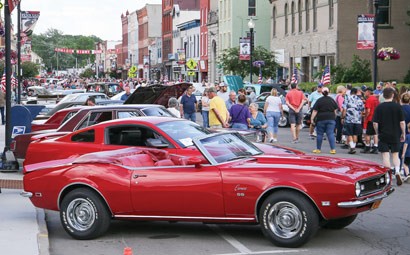 PENN YAN--Car enthusiasts will want to head to Penn Yan Friday, June 16, for the 25th annual Penn Yan Cruisin' Night and Block Party. Scheduled from 5:30 p.m. to 8 p.m., this year's event will be held at the Yates County office complex and parking lot due to the ongoing Main Street construction project. Parking is available in a variety of municipal parking lots in the downtown area as well as at the school.
Organizers expect approximately 200 cars, mostly classic, although attendees will enjoy a variety of newer and specialty vehicles as well. Registration for entering vehicles in the event is open through June 15. Car registration costs $20 and entitles the owner to a 25th-anniversary commemorative dash plaque, t-shirt and various giveaways. Admission to the family-friendly event is free.
In addition to the car show, Black Robin Band will perform on the courthouse lawn. The founding trio of musicians formed the band in 2019 and play a variety of rock, pop, and blues favorites from the last 60 years. Special activities will keep children entertained, vendors will offer unique shopping opportunities, and local restauranteurs/food trucks, including 546 Chicken & Waffles, Dainty Donuts, and Mac's Dairy Bar, will offer a range of foods to suit all tastebuds.