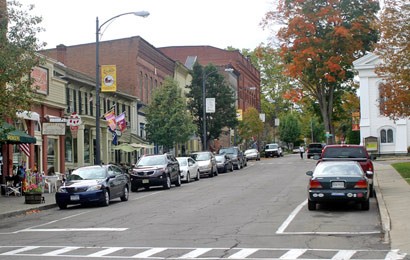 NEW YORK STATE--Gov. Kathy Hochul last week announced the New York State Board for Historic Preservation has recommended adding sixteen properties to the state and national registers of historic places. The nominations came from across the state and included the Village of Hammondsport Historic District along with a Puerto Rican casita in New York City, a historic firehouse on Long Island, a Catskills summer camp, the Lake Champlain home of a film industry pioneer and several others.
"These nominations showcase the New York spirit of innovation, adaptation, and community building that has existed for generations and continues to inspire us today," Hochul said. "Adding these sites to our historic registers broadens our understanding of New York history and encourages us to learn more about our diverse, collective past."
The state describes the Hammondsport village as, "a cohesive collection of almost 450 architecturally intact resources spanning from 1823 to 1975, including residential properties reflecting Victorian, Queen Anne, Classical Revival and Craftsman styles, as well as kit homes with American Foursquare design. The history of the village, which is located on Keuka Lake in the Finger Lakes region, is deeply connected with the history of the Erie Canal and the historic wine industry, both with roots to the 1820s. There is a common visual theme of wine and grape motifs referencing the area's history of wine production and reflecting the village's tourism industry, which continues today. The village was also the manufacturing site for Hammondsport native Glenn H. Curtiss's refinement and production of aircraft. Curtiss is credited with developing and successfully testing the first seaplane in 1911. The Curtiss Aircraft Corporation held test flights for its aircraft on Lake Keuka from 1910-1916, and a flight school was established locally to train test pilots. Both the wine and aviation industries in this village had an enormous impact on New York's economy and made significant contributions to American cultivation, industrial, and military history."
A state and national register listing can assist owners in revitalizing properties, making them eligible for various public preservation programs and incentives, such as matching state grants and federal and state historic rehabilitation tax credits.
New York State Office of Parks, Recreation and Historic Preservation Deputy Commissioner for Historic Preservation Daniel Mackay said, "At the Division for Historic Preservation, we are committed to supporting New York's remarkable historic resources and we work on various projects throughout the state, including designations to the state and national registers. We have seen opportunities for state and federal tax credits drive local preservation efforts and encourage investments in communities of all sizes. Historic resources are now being recognized as cultural and economic assets, which help ensure their longevity into the future."
Once recommendations are approved by the commissioner, the properties are listed on the New York State Register of Historic Places and then nominated to the National Register of Historic Places.