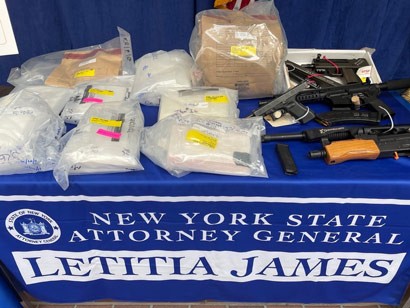 NEW YORK–New York Attorney General Letitia James announced the takedown of a major narcotics trafficking ring that flooded communities in the Finger Lakes with fentanyl, cocaine, heroin, and other dangerous drugs. The takedown resulted in 177 charges against 48 defendants related to their participation in this trafficking network that operated in Monroe, Wayne, Cayuga, Ontario, Orleans, Seneca, and Yates counties. This operation resulted in the seizure of more than 10 kilograms of fentanyl and more than 10 kilograms of cocaine, with a total value of more than $9 million. Investigators also seized 19 firearms, including assault weapons and ghost guns, and more than $440,000 in cash.
"Our communities are being ravaged by fentanyl, opioids, and other dangerous drugs, and this organized crime group was fueling the fire," said James. "The dozens of individuals arrested and charged as a result of this investigation were flooding local communities with drugs, and were armed with deadly weapons to support their illegal activities. This major takedown was only possible because of my office's strong connection with local law enforcement, and I thank my colleagues for their partnership."
The two-year investigation was led by the Office of the Attorney General's (OAG) Organized Crime Task Force (OCTF) and brought together the resources of more than a dozen state, local, and federal law enforcement agencies, including the Wayne County Sheriff's Office, Ontario County Sheriff's Office, Seneca County Sheriff's Office and the Wayne County District Attorney's Office.
The investigation included hundreds of hours of covert surveillance and wiretaps.
As alleged in the indictment, the investigation began in Wayne County and identified three interconnected groups that were responsible for selling drugs in Monroe, Wayne, Cayuga, Ontario, Orleans, Seneca, and Yates counties. The first phase focused on traffickers based in Wayne County and was centered around Michael Danzey and his brother, Terrance Raggs. Danzy and Raggs were the primary sources of cocaine for this operation and distributed to a network of customers throughout Wayne County.
During the investigation, investigators also uncovered that in June 2021, Danzey attempted to murder an individual that he believed was stealing from him. The individual sustained multiple serious injuries as a result of the shooting, but ultimately survived. In the aftermath of the shooting, Danzey asked his brother, Raggs, to conceal evidence from law enforcement. In addition to charges related to drug trafficking, Danzey is also being charged with attempted murder in the second degree and Raggs is being charged with hindering prosecution in the second degree.
Aaron Sweeney and Ryan Faniel were two other central figures who sold cocaine and oxycodone in Wayne, Monroe, and Ontario counties. As the investigation developed, it was further revealed that Sweeney was also sourcing drugs from individuals in Rochester.
The investigative team learned that many of the Avenue D narcotics sellers had a single source for their cocaine supply, Luis Rivera. This information led to the third phase of the investigation, and through intercepted communications and other evidence, investigators established that Luis Rivera and his sons, Luis Emmanuel a/k/a "Manny" Rivera, Natan a/k/a/ "Nate" Rivera, and Jacob a/k/a "J" Rivera, along with their associates, were operating a multi-kilogram level fentanyl and cocaine distribution network.
Luis and J Rivera have been charged with Operating as a Major Trafficker, which carries a maximum sentence of 25 years to life.