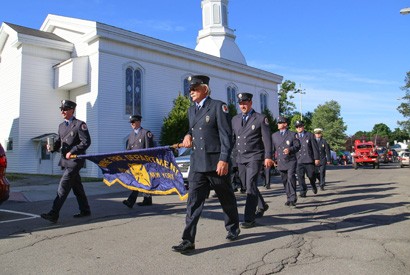 By Jaxyn Boyce
HAMMONDSPORT-Hammondsport celebrates its firefighter's carnival and parade, from Thursday, July 6 through Saturday, July 8. Opening at 6 p.m. Thursday and Friday night, rides will be available as well as special events. Saturday, the schedule begins at 11 a.m. and concludes with the fireworks at 10 p.m.
There is no fee for parking and admission, and vendors like the Play and Amusement company, located in Auburn, bring an assortment of carnival rides that are available by purchase. Rides are a mix between children and adult fun and include a slide, scrambler, tilt-a-whirl, and more attractions. The carnival will have games like corn hole on Thursday and water ball on Friday. Every night features prize giveaways as well as a bike giveaway. Five bikes in total, through donations, will be given away; helmets are provided with each bike.
In addition, clams, salt potatoes, and snow cones are a few of the many options that can be purchased. Many vendors from different fire stations in the nearby area prepare the food.
Any young children interested will have the chance to ride Hammondsport's fire trucks from 11 a.m. to 1 p.m. Saturday, wristbands go on sale for $30 from 1 to 5 p.m. The 2023 "Cruise'n Time" car show will have around 75 to 100 cars. They will be positioned nearby the fire station from noon to 4 p.m. on Saturday.
The annual parade will also take place on Saturday at 6 p.m. Music by Doc Possum will run from 7 to 10 p.m. on Saturday. At 10 p.m. there will be a display of fireworks.
The Hammondsport Carnival is on Route 54, at the fire station. For more information, there is a Facebook page (https://www.facebook.com/profile.php?id=100057819661314).