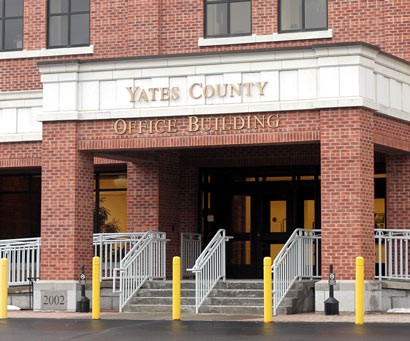 YATES COUNTY--Yates County Administrator Nonie Flynn provided the following update on several programs currently in development or underway in the county.
Finance:
Planning –
• Planning Board – There is an opening for a representative from Middlesex on the county's planning board.
• Agricultural District Review – This review is required every eight years. A mailing has gone out to residents that are currently in the agriculture district to notify them that their parcel is in the district and if it is no longer an appropriate classification, the parcel can be removed.
• Household Hazardous Waste Day – The county will be hosting this again this year on Sept. 23 from 9 a.m. to noon at the Yates County Fairgrounds. This is for hazardous and electronic waste disposal and free to Yates and Schuyler County residents. Registration opens on Aug. 1 and is required. The form is available through the planning office or online at yatescounty.org. The list of acceptable or non-acceptable waste is also available online.
• Recreation and Natural Resources Grant funding – The county assisted in funding new pickleball/tennis courts in Penn Yan, beach upgrades in Middlesex and softball field upgrades in Potter. This funding is available through the occupancy tax revenue.
Real Property –
• Board of Assessment Review – There is still one vacancy in each of the towns of Potter and Torrey.
• Senior Citizen Exemption – There will be a public hearing on Aug. 14 at 1 p.m. in the legislative chambers to increase the income limits for the low-income senior exemption for county property tax purposes. If this is passed, it will take effect on the January 2025 town and county tax bill. Property owners 65 years of age or older would apply to their town assessor by March 1, 2024.
County Administrator/Budget Officer –
• Broadband ReConnect 1 Grant – First Light continues construction with the buried cable. The county is at 93 percent completion with buried cable and is waiting on pole make-ready completion by NYSEG and Verizon to begin the aerial fiber distribution in Middlesex and then Italy. The county is also held up waiting on approval of the plans and specs for phase 1B by the USDA.
• Broadband ReConnect 4 Grant – The county submitted an application last November and is waiting on the USDA for their award announcement. Because more funding is available for this grant, there is not a 25 percent match requirement. This is for service to the remaining 680 households in the county that are either unserved or underserved. The county requested $9,087,389.
• Supplemental Funding – The USDA is allowing requests for additional funding for recipients of ReConnect 1. The county submitted for this last December for $3.8 million. The USDA field representative is confident at least some of this requested funding will be provided.
• NYS Budget – The adopted NYS budget did approve the proposal to no longer share federal Medicaid funds with counties. This will cost Yates County an additional $543,000 per year. The NYS budget also increased the rate of pay for assigned counsel Public Defender attorneys from $75/hour to $158/hour. This will cost Yates County additionally approximately $175,000 each year.
Government Operations Committee
Historian/Records Management –
• Bicentennial Year – The Penn Yan parade and celebration will be Aug. 12.
• Historic Markers – The county has completed either refurbishing or replacing all of the historic markers. There is a poster of the markers that is for sale in the historian's office for $10. A commemoration ceremony will be held on Aug. 14 at 9 a.m. at the site of the Jemima Wilkinson marker on Hewitt Road in Dresden. The map of all of the markers can be found on the yatescounty.org website.
County Administrator –
• Meeting Notifications – One can receive text messages and email alerts or notifications from the legislature and various county departments by signing up on the website, yatescounty.org under the button for "Notify Me". You can subscribe or unsubscribe at any time.
Human Services Committee
Veteran's Services –
• Veterans' Transportation – Drivers are needed to transport veterans to medical appointments. County vehicles are available for this service.
• Upcoming Events:
7/26 – Bowling at 6:00 p.m. at Brock's Bowl; 7/29 – Coffee, Cards and Brunch at 11:00 a.m. at Lakemont Christian Church;
8/4 - Commemoration of the U.S. Coast Guard's 233rd birthday; 8/5 – Purple Heart Ceremony and Car Show at noon at the American Legion; 8/7 National Purple Heart Day – On this day in 1782, George Washington established this Badge of Military Merit. We now have this day to remember, recognize and honor the brave men and women who were either wounded or killed on the battlefield while serving our Country.
Public Health – The next rabies immunization clinic is Aug. 9 from 6 p.m. – 7 p.m. at the Potter Fire House.
Public Safety
Emergency Management –
• Ambulance Service – Two ambulances and one fly car are in service to provide 24 hour advance life support in the county and to back up the existing ambulance services. One ambulance is stationed in Dundee and one is stationed in Branchport/Keuka Park.
Sheriff –
• Communications – The county has completed the project that includes new base radios and microwave at all seven sites that replaced past end-of-life equipment. There are two new county owned tower site locations in Italy and Dundee, replacing formerly leased towers and land. This improvement in communications will benefit law enforcement, emergency management, fire departments, emergency medical services and public works (highway, utilities, street and NYS DOT).
Public Works
Highway –
• Building Project – The new fuel island has been completed and is in service. The foundation is in place for the salt storage barn.