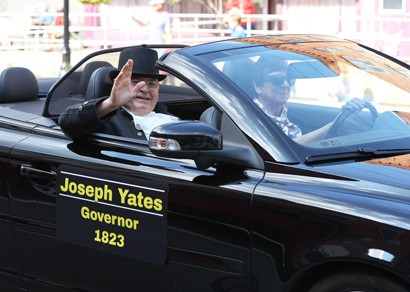 BY SAMANTHA LAPE-KESEL
PENN YAN--The Penn Yan Bicentennial Committee has announced the upcoming celebration of Yates County's Bicentennial. The event will feature a parade and a series of engaging activities on Saturday, Aug. 12. It promises to be a memorable experience for both residents and visitors.
Yates County was founded in 1823, spanning the equivalent of ten generations.
"The amazing thing about Yates County is, that over the course of 200 years, the county has remained about the same--population was 20,000 then about 24,000 now. Even though there have been many changes (cars, roads, communication, etc.) it is still an idyllic place to come home to or visit," said Len Kataskas, Yates County historian.
The festivities will begin at 1 p.m. in Yates County Courtyard, with Sheriff Ron Spike leading the dedication of a time capsule that represents Yates County's history and heritage. This event is significant as it preserves the community's memories for future generations. Additionally, the Penn Yan Lions Club will formally dedicate a Bicentennial monument to honor Yates County's 200th-anniversary celebration.
At 2 p.m., the opening ceremony will take place at the Penn Yan Fireman's Field, marking the official start of the celebration. The parade, one of the highlights of the evening will step off at 5 p.m. and feature Spike as the grand marshal.
Schedule of events:
• 12-2 p.m. Chicken BBQ – Presale (available at Pinckney Hardware and Longs' Cards and Books) – Fireman's Field
• 1 p.m. Ceremony/Proclamation/Time Capsule Burial – Yates County Courtyard by Sheriff Ron Spike
• 2 - 4 p.m. Commencement of games – Fireman's Field
• 2:30 p.m. Bed Races – Hicks Street
• 5 p.m. Parade – Main Street to Fireman's Field
• 7 -10 p.m. Live Music – RUBY SHOOZ – Fireman's Field (bring a chair)
• 10 p.m. Fireworks – Fireman's Field
The committee invites residents, neighboring communities, and visitors to join them on Aug. 12 to pay tribute to their vibrant past, forge enduring memories, and embrace the essence of togetherness.
For more information, follow the Penn Yan Celebrates Yates County Bicentennial Facebook page or visit www.yatescounty.org/bicentennial.