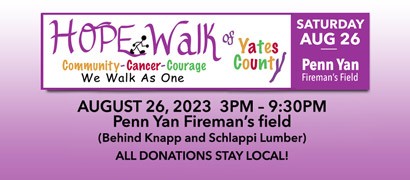 BY Samantha Lape-Kesel
YATES COUNTY-The Hope Walk of Yates County will host its annual event Saturday, Aug. 26 at the Penn Yan Firemen's Field. This year, Hope Walk is committed to raising $40,000 to provide $1,000 in grants for Yates County cancer patients.
"This is our ninth year. We started in 2015 because we wanted to raise money in Yates County to support its residents in treatment," said Ron Miller, president of the Hope Walk. "We have grown from offering $500 grants to offering grants for thousands of dollars."
Event Schedule:
4 p.m. - Opening Ceremony
4 - 8:30 p.m. - No Name Band and Black Robin Band
4:30 p.m. - Carnival (games and bounce house for kids)
6:00 p.m. - Survivors' Ceremony & Silent Walk
6:30 p.m. - Survivors' Dinner
8 p.m. - Raffle items include: a free night stay from Hampton, Best Western, and Microtel, a boat ride on Keuka Lake, and more.
9 p.m. Hope Bag lighting and the closing ceremony
At the Closing Ceremony, you can walk the path of hundreds of Hope Bags (luminaries) honoring or remembering those touched by cancer. Hope bags will be available for purchase at $5 each. Participants can decorate them for you, or you can design your own.
According to Miller, there will be around 400-500 Hope Bags that honor or remember individuals affected by cancer. "When people walk the path, they take the time to notice the names on the bags, and it provides a touching end to the event," he said.
Hope Walk has partnered with organizations to provide valuable information for those dealing with cancer. Participating organizations include Thrive to Survive, Embrace Your Sister, Breast Cancer Confidence Project, Finger Lakes Community Health and the Wilmot Cancer Center.
The best way to support Hope Walk is by forming a team or sending a monetary donation to PO Box 174, Penn Yan. Learn more at www.hopewalkofyatescounty.org and www.facebook.com/hopewalkofyatescounty.