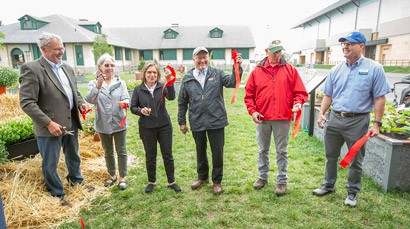 BY Samantha Lape-Kesel
SYRACUSE—The 2023 New York State Fair will run from Wednesday, Aug. 23 to Monday, Sept. 4 at the state fairgrounds in Syracuse. In addition to various agricultural displays, food, exhibits, fair rides and games, there will also be musical performances and special events over its 13-day run.
All concerts/acts in the Chevrolet Music Series – including Chevy Court and Suburban Park performances – are free to fairgoers with fair admission. Some of this year's performers include REO Speedwagon, Ludacris, Tyler Hubbard of Florida Georgia Line, The Fray, Tonic, Theory of a Deadman, and George Thorogood and The Destroyers. There are shows each day at both venues and full schedules can be seen at nysfair.ny.gov.
In addition to the 250+ food vendors and exhibitors, Micron Technology will debut an Interactive Pavilion for opening day. The first 3,000 children to visit Micron at the Expo Building will receive a free STEM activity kit with components and instructions to build an LED light circuit. The "Memory Race" will test fairgoers' memories, computer skills, and reflexes as they install Micron memory modules into a motherboard.
Micron has committed to building a $100 billion facility for semiconductor production in Syracuse.
Both admission and parking sales will be available online via the fair's official online ticket seller, Etix, or by calling Etix toll-free at 1-800-514-3849. With fees, the total cost to patrons will be $6.28 per ticket admission, ($20.59 for the Frequent Fairgoer), and $10.37 for parking per vehicle.
There will be no cash sales at the fair's entrance gates or in parking lots. Self-service kiosks will be available at all gates to purchase admission. Large signs with QR codes will also be available so patrons can use their phones to link directly to the ticket purchase site.
The New York State Fairgrounds are immediately adjacent to Route 690 just west of Syracuse. Hours are Monday through Thursday from 9 a.m. to 11 p.m., Friday through Sunday from 9 a.m. to midnight, with no entry or re-entry after 10 p.m. on any day. On Labor Day (Sept. 4) the Fairgrounds will fully close at 9 p.m.
Founded in 1841, The Great New York State Fair showcases the best of New York agriculture and provides entertainment. It is the oldest fair in the United States and is consistently recognized as being among the top five state fairs in the nation.