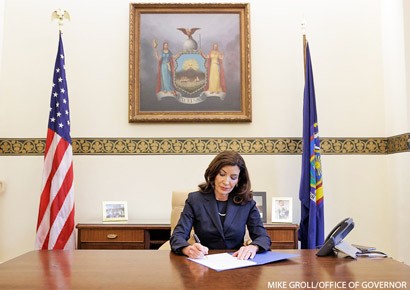 By ANTHONY IZAGUIRRE
ALBANY, N.Y. (AP) — Gov. Kathy Hochul on Thursday implored President Joe Biden to take urgent action to help the state absorb a surge of international migrants who have strained resources and filled homeless shelters.
In a rare public address, Hochul said she had sent the president a letter asking him to expedite work permits for migrants and provide financial resources to help care for the estimated 100,000 asylum seekers who have come to the state in the last year, mostly to New York City.
"The reality is that we've managed thus far without substantive support from Washington, and despite the fact that this is a national, and indeed an inherently federal issue," Hochul said in a speech delivered in Albany. "But New York has shouldered this burden for far too long."
The public plea comes after months of private requests to the White House.
The central request of the governor's letter was for the president to speed up the months-long bureaucratic process under which migrants can obtain work permits, and earn enough money to get off of public assistance.
"Let them work," Hochul said, in remarks directed at the White House.
New York City Mayor Eric Adams, has repeatedly made an identical demand.
A White House spokesperson did not immediately return an emailed request for comment.
New York has always prided itself on its ability to absorb waves of immigrants, but it has struggled to handle the thousands who have come over the past year, many on buses paid for by the state of Texas.
New York Democrats initially blamed Republican governors of southern states for the crisis, but have increasingly sought to characterize it as a national problem that should be solved by the federal government.
The situation has also created tension between Democrats. As New York City's homeless shelter system became overwhelmed, and the cost of housing migrants in hotels and temporary shelters mounted, Adams began organizing bus trips of his own to take migrants to other parts of the state, to the frustration of many officials in those communities.
Lawyers for Hochul and Adams have sparred in court over how best to house and expend resources to care for the migrants.
The state has earmarked up to $1.5 billion for its migrant response. Hochul asked Biden for financial assistance to help cover those costs and a projected $4.5 billion needed next year. In addition, the governor requested that the city and state be allowed to use federally-owned properties to house migrants.
New York City shelters have been at near capacity and officials have scrambled to set up temporary housing in hotels, recreational centers, school gyms and a hospital parking lot. The city is legally obligated to find shelter for anyone needing it - but that order does not apply to the state as a whole.