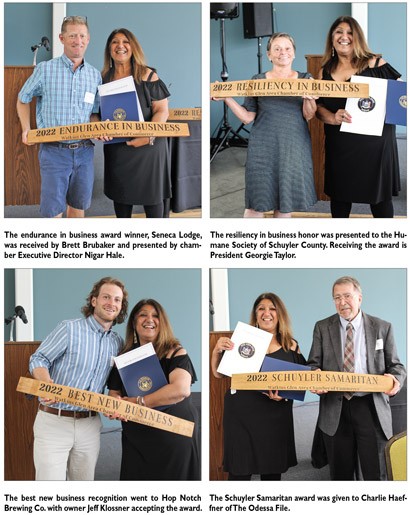 WATKINS GLEN--The Watkins Glen Chamber of Commerce held its annual awards luncheon, Schuyler Tributes, Wednesday, Aug. 23, at the Seneca Lake Events Center in Clute Park. The event welcomed over 100 local dignitaries, businesses, and individuals and honored chamber members for their invaluable contributions in 2022.
Twenty businesses and individuals were chosen as part of community nominations that included the categories of endurance in business, resiliency in business, best new business, and Schuyler Samaritan. The community was then asked to vote for their choice as part of the process. The chamber announced that more than 3,600 votes were received.
The recipients were named and awarded a custom wine stave along with proclamations from Senator Tom O'Mara, Assemblyman Phil Palmesano and Congressman Nick Langworthy during the ceremony.
The Schuyler Tributes award recipients are:
• Endurance in Business - Seneca Lodge, award received by Brett Brubaker, owner of Seneca Lodge.
• Resiliency in Business - The Humane Society of Schuyler County, award received by Georgie Taylor, president of The Human Society of Schuyler County.
• Best New Business - Hop Notch Brewing Co., award received by Jeff Klossner, owner of Hop Notch Brewing Co.
• Schuyler Samaritan - Charlie Haeffner, publisher and editor of the Odessa File. He received a standing ovation for his years of dedication to the region.
The categories and respective nominees were:
Endurance in Business: Corning Credit Union, Hazlitt 1852 Vineyards, Seneca Lodge and Wagner Vineyards Estate Winery.
Resiliency in Business: My Place: A Play and Learning Center, Seneca Sunrise Coffee, The Arc of Chemung-Schuyler, The Humane Society of Schuyler County and the Windmill Craft & Farm Market.
Best New Business: Falling Waters Boat Tours, Finger Lakes RV Resort, Hop Notch Brewing Co., Pangea Global Teahouse, The Glen Beacon Theater and Willenaway Bed & Breakfast.
Schuyler Samaritan: Brett Chedzoy - CCE, Michaela Christensen – Watkins Glen Promotions, Charlie Haeffner – Odessa File, Peggy Scott – Seneca Santa and Ben Stamp – Lakewood Vineyards.
The Watkins Glen Area Chamber extends congratulations to all award recipients and those nominated as part of the 2022 Schuyler Tributes Awards.