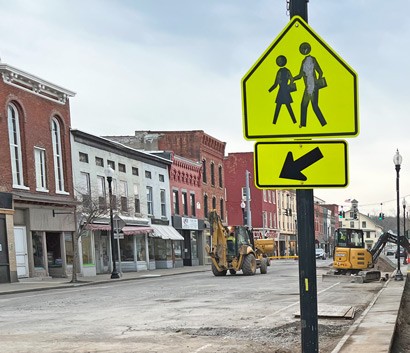 BY Samantha Lape-Kesel
PENN YAN--Main Street redevelopment is set to begin Tuesday, Sept. 5, and is estimated to take four to six weeks to complete in Penn Yan. The work marks the second phase of the project that was started earlier this year with water and gas line replacements.
This next step includes the installation of curbs, sidewalks and paving from Elm Street to Clinton Street. Preparations will occur this week and Main Street will be open. Beginning Monday, Sept. 11, the street will be closed but downtown businesses will be open and available by rear entrances or designated walkways throughout the project. During the construction, Main Street will be closed to traffic from Elm Street to Maiden Lane, with weekend closures as needed.
The plan is to remove and reset the curb, box out and regrade the road, demo and pour the new sidewalks, and repave the road.
• Sept. 5 - Site layout and utility stakeout work will begin, Main Street is open to traffic.
• Sept. 11 - Road boxout will begin, and Main Street will be closed to traffic from Elm Street to Maiden Lane.
To begin sidewalk replacement, the contractor will remove and replace the sidewalk in sections. Once a section is removed, they will grade the stone, and there will be limited access to the front of properties for one day. On the second day, concrete will be poured, and no access will be allowed to the front entrances for one to two days, depending on curing and sealing. This means that there will be interruptions to property entrances for up to three days according to a letter by the village.
The Department of Public Works asks if you only have access to the front of a building to please contact them at 315-279-6535.
Project updates will be posted to the Village of Penn Yan Department of Public Works Facebook Page and at www.villageofpennyan.com.