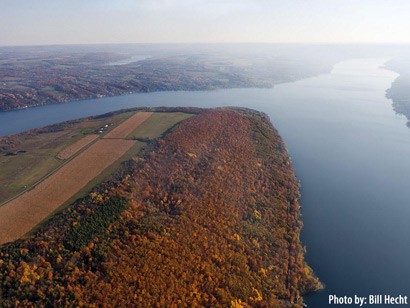 KEUKA LAKE—The Finger Lakes Land Trust (FLLT) will host a public presentation titled Land, Water, and Keuka: The Role of Land Conservation in Ensuring the Future of Keuka Lake at Keuka College on Tuesday, Sept. 12 from 5:30-6:30 p.m.
FLLT Executive Director Andrew Zepp and Conservation Projects Manager Amy Olney will introduce the organization's conservation work within the Keuka Lake watershed, with a particular emphasis on a new initiative to conserve lands on Bluff Point.
This presentation will take place in the Keuka Commons building room 133 on the Keuka College campus. Free and open to all, the FLLT encourages members of the general public to attend. An informal question and answer session will follow the presentation. Light refreshments will be served.
Within the Keuka Lake watershed, the FLLT has secured more than 1,000 acres of farmland just outside of Penn Yan, protected wooded shoreline at the tip of Bluff Point, and established the Botsford Nature Preserve at Big Gully in the Town of Jerusalem.
Since it was established in 1989, the Finger Lakes Land Trust has worked cooperatively with landowners and local communities to conserve more than 30,000 acres of the region's undeveloped lakeshore, rugged gorges, scenic farmland, and majestic forest. The FLLT owns and manages a network of over 45 nature preserves that are open to the public and holds perpetual conservation easements on 179 properties that remain in private ownership.
The FLLT focuses on protecting critical habitat for fish and wildlife, conserving lands that are important for water quality, connecting existing conservation lands, and keeping prime farmland in agriculture. The organization also provides programs to educate local governments, landowners, and residents about conservation and the region's unique natural resources.
Information on the region's destinations for outdoor recreation may be found at www.gofingerlakes.org, a resource created by the FLLT to encourage people to get outdoors. Additional information about the Finger Lakes Land Trust may be found at http://www.fllt.org.