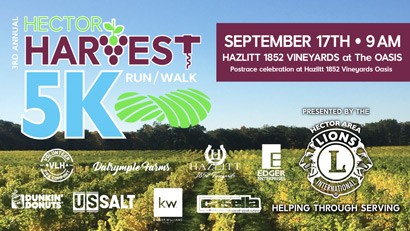 BY Samantha Lape-Kesel
HECTOR--The third annual Hector Harvest 5K, a fundraiser organized by the Hector Area Lions Club is coming up this weekend. The 5K race is scheduled for Sunday, Sept. 17 at 9 a.m. The event will kick off with a celebration at The Oasis at Hazlitt 1852 Vineyards.
More than just a race, this event celebrates community, fitness, and a shared commitment to making a positive impact. The race route takes a participant through the vineyards overlooking Seneca Lake, providing a scenic view of the area. This event welcomes participants of all ages and fitness levels, including runners and walkers.
The Hector Harvest 5K is not just about winning. It's about participating, supporting each other, and fostering a sense of togetherness. The race is unique because it focuses on personal wellness and philanthropy, as it raises funds and awareness for local charities and community initiatives.
"Lions Club International is the largest service club organization in the world with more than 1.35 million members in more than 46,000 clubs worldwide," said Kim Karius, Hector Area Lions Club president. "The Hector Area Club is focused on serving our local surrounding communities in the areas of service, vision, hunger, diabetes, cancer, and the environment. One hundred percent of any monies raised through fundraising go directly back into the community where it's needed most."
Register now at www.runsignup.com and join the Finger Lakes community for the Hector Harvest 5K.