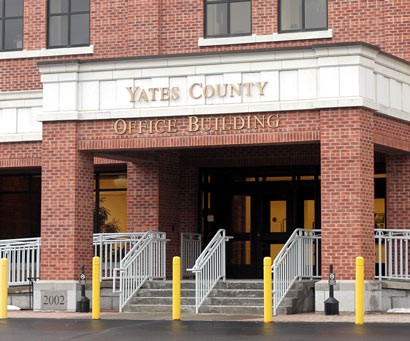 BY Samantha Lape-Kesel
YATES COUNTY--During the Yates County legislative meeting held Monday, Sept. 11, two employees were recognized for their contributions. Richard Ayers for his years of service to Yates County Soil and Water upon his retirement, and Marian Walrath for her contributions to the advancement of broadband deployment in Yates County.
During the public comments session, several citizens expressed their views. Nathan Horning addressed the legislature speaking about the significant number of Mennonites congregated at the courthouse for Monday's session. Horning explained this was due to a case involving a Mennonite family and the issue of a child wearing a helmet while riding a bicycle.
Minutes from the Aug. 14 and Aug. 28 meetings were approved, and committee reports included a reminder from Daniel Banach regarding upcoming changes to ammunition background checks. Additionally, two new official dates were declared on Monday. Richard Willson proclaimed Sept. 17 to 23 to be Sheriffs' Week in Yates County, and Carlie Chilson proclaimed Sept. 18 as U.S. Air Force Birthday in Yates County, the month of September as "Suicide Prevention Coalition Month" and Sept. 11 as Patriots Day in Yates County.
There was some discussion when Edward Bronson resolved to authorize the chair of the legislature to sign an absentee ballot pre-paid postage grant amendment that would allow Yates County to receive New York State Board of Elections funds to reimburse technology and election resources in the amount of $30,487.06.
The legislature approved Kyle Lovell, Seneca County manager, to the Finger Lakes Workforce Investment Board, replacing the vacancy left by outgoing representative Mitch Rowe to fulfill the vacated term through June 30, 2025.
Legislator William Holgate introduced budget transfers and multiple resolutions to appropriate state funds and aid for the Department of Social Services, daycare, Youth Bureau, and infrastructure reserve funds. All of which passed.