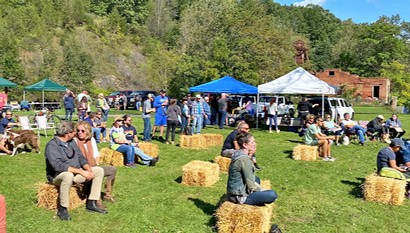 PENN YAN--The third annual Celebrate Cascade event is Sunday, Sept. 17 from noon to 4 p.m. at Cascade Falls and pavilion on the Keuka Outlet Trail. The event is free and all ages are welcome.
The event will be held at the heart of the Keuka Outlet Trail, approximately half a mile east of the intersection of Ridge and Outlet Roads in Penn Yan. It will take place in any weather condition, and feature live music from St. Vith and The Soul Section, as well as various lawn games for attendees to enjoy. Other not-for-profit organizations are welcome to join and share information about the important work each organization does to contribute to the community.
Visitors to Cascade can look forward to a variety of refreshments from local vendors, including Climbing Bines, Lake Drum Brewery, Laurentide Beer Co., Anthony Road Wine Co., Scout Vineyards, Lake Life Catering, LaMonarka food truck, and Seneca Farms ice cream.
This year, there is an opportunity to participate in the Mill-to-Mill 5K or 10K Races sponsored by Willow Running. The races are organized under the banner of "Where Run and Fun Become ONE," and are focused on the mills of the Keuka Outlet Trail.
"We are very excited about the next big event on the Keuka Outlet Trail," said Keith Prather, president of the Friends of the Outlet, Inc. board of directors. "Celebrate Cascade brings our whole community together in a place that is unique and very special to our region of the Finger Lakes – historically, geologically, and environmentally. And this year, by introducing a range of different not-for-profit organizations to the event, we are also celebrating the incredible network of amazing community resources."
The Keuka Outlet Trail follows the Minessetah River and is open year-round, from dusk to dawn. Depending on the time of year and weather, this glacially formed waterway can be a raging river or a babbling brook as it flows approximately eight miles from Keuka Lake into Seneca Lake. A 270-foot drop in altitude from Penn Yan on the west end to Dresden on the east provides ample white water including two substantial waterfalls – Seneca and Cascade Falls.
Those wishing to participate can register at www.runsignup.com. For additional details, please visit www.keukaoutlettrail.org.