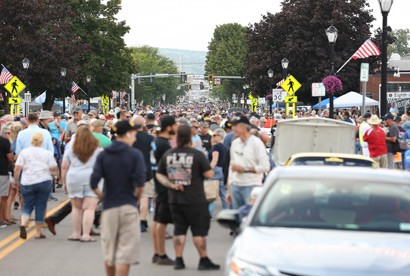 WATKINS GLEN--With the change of the NASCAR race at Watkins Glen International from August to September, other events on the schedule will also see an adjustment in 2024.
The Hilliard U.S. Vintage Grand Prix Weekend, which is usually held in conjunction with the downtown Grand Prix Festival, is now scheduled for Aug. 21 to 25, while the village racing celebration will still be in its typical Friday slot after Labor Day, Sept. 6.
Watkins Glen Grand Prix Festival organizers explained, "MG will still be the featured marque for 2024 and we will still have all of our regular stone bridge driver events including at least one surprise addition that we are currently working on that will be exciting."
Adding, "We are still actively working on having race cars during the tribute old course laps. We don't have information yet on what that looks like because we are still very far away from the festival date. Rest assured our team of volunteers are going to do everything we can to create as 'normal' of a festival as we possibly can. We cannot move our festival date to pair with the Sportscar Vintage Racing Association because our village is not equipped to handle a shutdown of a major route (Route 14/Franklin Street) during the peak of tourism season."
In 2015, when the track was repaved immediately after the NASCAR race, the vintage and downtown festival were also held on different weekends as the track event was moved to July. The downtown festival in September was similar to other years with the addition of motorcycles and numerous rare or track-prepped vehicles to drive the historical reenactment route in the evening.
The WGI schedule for 2024 includes: Opening Weekend: April 6-7, SCCA Majors Super Tour: May 31-June 2, HSR Classic: June 6-9, Sahlen's Six Hours of The Glen: June 20-23, Ferrari Challenge North America: July 10-14, Finger Lakes Wine Festival: July 26, Hilliard U.S. Vintage Grand Prix Weekend: Aug. 21-25, Xfinity Series Race: Sept. 14 and the NASCAR Cup race: Sept. 15.