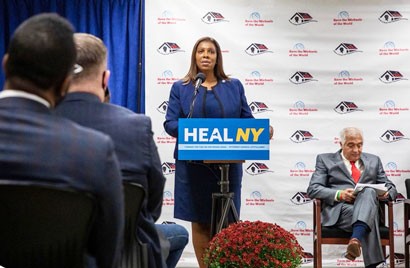 NEW YORK STATE--Gov. Kathy Hochul announced that New York has made available all the funding provided in the first year of the opioid settlement agreements. This funding, approximately $192.8 million, is supporting a variety of prevention, treatment, harm reduction, and recovery initiatives to help New Yorkers impacted by the opioid and overdose crisis.
"New York is not only leading the way in the efforts to hold opioid manufacturers and distributors accountable, we are taking swift action to put settlement dollars to work to reverse the harm they have caused," Hochul said. "These efforts are making a difference in communities across the state, and we are continuing to work to deliver further support and assistance so that all New Yorkers can access the services they need through a series of initiatives to address all types of behavioral health needs."
New York State Attorney General Letitia James added, "The first $192 million secured through my opioid litigation is already helping vulnerable communities recover from years of damage caused by the opioid epidemic and preventing future devastation. These funds are giving New Yorkers access to the resources they need to heal and are being invested in our communities to address the root causes of opioid addiction, as will the rest of the $2.6 billion secured by my office in years to come."
New York state is receiving more than $2 billion through various settlement agreements with opioid manufacturers and pharmaceutical companies that were secured by AG James. A portion of the funding from these settlements will go directly to municipalities, with the remainder deposited into a dedicated fund to support prevention, treatment, harm reduction and recovery efforts to address the ongoing opioid epidemic.
More than $192 million was deposited into the settlement fund account for the first fiscal year, and is being made available and awarded in accordance with the priorities of the New York State Opioid Settlement Fund Advisory Board as presented in the November 2022 report to the governor and legislature. This report detailed the expansion of harm reduction services and treatment as the board's top priorities.
The funding made available includes support for the following initiatives:
• Regional abatements for local governments.
• Transitional Safety Units.
• Funding for Recovery Centers.
• The establishment of Comprehensive Integrated Outpatient Treatment Programs.
Additional information about these and other initiatives, and the status of settlement fund spending is available on the Opioid Settlement Fund Tracker on the OASAS website.