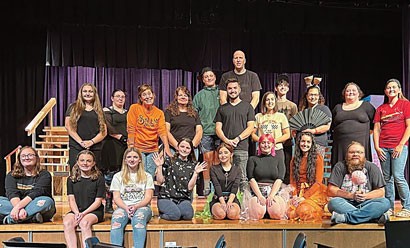 WATKINS GLEN--Whether you like Green Eggs and Ham or not, you will love the upcoming Lake Country Players' production of "Seussical, the Musical" will be presented Nov. 17 and 18 at 7:30 p.m. and Nov. 19 at 2 p.m. at the Watkins Glen high school auditorium. The show features favorite Dr. Seuss characters like The Cat in the Hat (played by Alex Gill) and Horton the Elephant (Brenden Wendling) along with Gertrude and her one-feather tail (Kelsey Gill) and Amazing Mayze (Annabeth Wheaton).
The storyline revolves around the unconventional "thinks" of young JoJo Who (Anne Roney) and the uncompromising loyalty of Horton to the distressed teeny tiny characters of Whoville. JoJo's parents, Mr. and Mrs. Mayor (Pam Kelly, Elizabeth Fresquez) are depending on JoJo to save their nearly microscopic planet from the clutches of the Wickersham Brothers (Della Diliberto, Grady Cole and Gavin Lewis) and the extreme negativity of the brassy Sour Kangaroo (Sami Cox) all of whom live in the Jungle of Nool. Much of the story is narrated by a trio of lovely young Bird Girls (Bri Holton, Edele Morgan, Peyton Dennis) and the Cat, with the assistance of Thing One and Thing Two (Natalie VanSkiver, Arloween Loucks-Scuteri).
After a short stint at boot camp under the command of General Ghengis Khan Schmitz (Phil Watson), JoJo revolts at the stupidity of war, and goes AWOL. An eagle steals the clover upon which resides the planet of Who, but Horton is stuck on Mayze's nest hatching her egg while she dallies in Palm Beach and visits the circus where Horton has ended up.
Who will save the tiny planet of "Who" from destruction? Can anyone help Horton while he faithfully incubates the egg? What will actually come out of the egg? Will the citizens of the Jungle of Nool (Horton's home) convict Horton of fabricating his tale of Whoville? Come see for yourself in this energetic, fun show all about Seuss, directed by Enaw Elonge with musical director Jenn Kraemer and accompanist extraordinaire Brian Cerow. Tickets are available at the door at WGHS by cash or check.